Hello Load Star,
I'm Abisola from LoadNG, and I'll like to take you on an illustration on how to sell perfect money for instant Naira on LoadNG (www.load.ng).
Step 1.
Register on the LoadNG web platform on www.load.ng and proceed to "Sign in".
A complete registration automatically redirects you to your dashboard.
Step 2.
Find the "Sell perfect money" box/panel, then click on the box, you can also find the present live rates in the box/panel.
Step 3.
Kindly put the amount in the "You Want To Sell How Much ($)'' panel
Then, the account you want the LoadNG system to pay into.
The rate at which we buy at the moment is written there as well. The system calculates the amount you will get in naira(₦) value, then, proceed to sell.
Step 4.
The system directs you to perfect money where you will be asked to select your desired payment method. Click on make payment after selection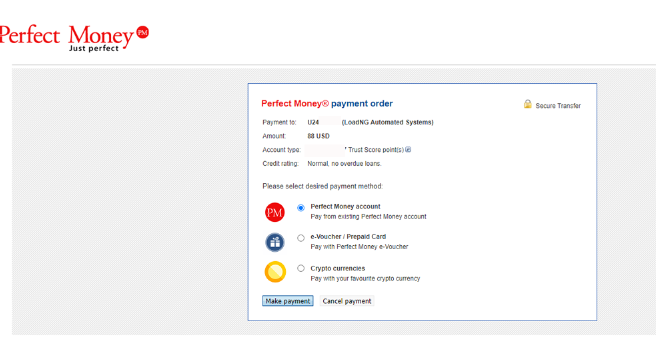 The system redirects you back to LoadNG where your money will be in your LoadNG wallet on your transaction history page before moving to your account details.
Best Regards.