IBCdesign Digital Services Limited, an Information and Communication Technology Firm has launched a new e-commerce solution into the Nigerian market.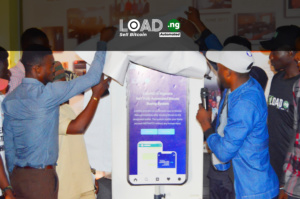 The innovative service allows individuals to sell their bitcoins for instant Naira with fully automated system, LoadNG also allows for bills payment, television subscription payment, mobile data and airtime purchase with bitcoins.
The ICT and Software development company, which recently launched a technology powered business branding solution LogoNG keeps pinning its interest in creating solutions to common problems with technology in Nigeria.
Speaking at the launch of the new service at the Wennovation hub in Ibadan, the CEO and lead developer of the firm, Tunde Aderemi, said that this is a solution Nigerians in the cryptocurrency niche have been craving for.
He mentioned that Nigerians are one of the highest users of the popular cryptocurrency wallet service, Paxful, and reiterated how much honest Nigerians go through the pain of having to sell their digital assets to swindlers, which is one of the reasons why cryptocurrency is often times regarded as very volatile and unsafe. So we felt a great need to leverage financial technology in a bid to allow cryptocurrency enthusiasts to exchange their bitcoin for Naira with a fully automated system that automatically pays Naira for value of Bitcoins received with respect to the present buying rate on the system which varies.
We are committed to making LoadNG the one stop shop to sell bitcoin for instant Naira as well make inevitable bills and subscriptions payment easily with our fintech powered solution as we believe this will go a long way in boasting Nigeria's digital economy by reducing unemployment , open new legal opportunities for the teeming youths digitally.